Trending, new categories and sharing product links on forum
Hi, all,
This week had been a busy week as we released more features to sellers! It had been exciting to see the feature come live in the last few days and how it has help to generate more sales and view for sellers. Below are the feature released this week.
Trending - We have released the Trend This button to all sellers, and make trending a more prominent feature on the site. The trending tab is now the most clicked tab by buyers followed by the buy tab. This shows that buyers love surprises and excitement and sometimes would love to randomly browse through popular and beautiful items on the site. For buyers that have something in mind, they can still use the buy tab followed by category. It is therefore very important for seller to frequently promote your item to the trending page so that you get more visibility and sales. Sellers are allowed to promote one item from each store each day.
New categories - The team have released two new categories: Pets and Holidays. With holiday season soon approaching, we believe that the holiday category will be much help for sellers that sell seasonal items such as Halloween and Christmas decoration. Do make use of these new category since they are still new and your items will definitely get more views.
Sharing product links - Sharing product links on forum just get more interesting! When you share a link of your item in the forum post or thread, a preview will be generated with the thumbnail, title and price of your product item. This will help sellers to promote their items in forum. Some buyers do browse through the forum before making purchases and therefore it is important to share your promotion and new listing in the forum. In the coming weeks, we will be working on different type of content preview for forum post such as list and stores. An example is as below:
http://www.luulla.com/product/8998/4-felt-star-decorations-4-cute-happy-face-yellow-felt-star-ornaments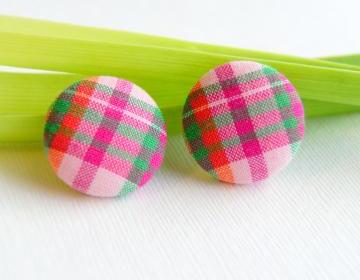 ~ Pink and green plaid linen fabric with an orange stripe creates a versatile pair of large button studs. The studs measure 7/8" r
..
Links on product description - Internal links on product description is now clickable. You can now share your matching item or your Luulla store link in your product description so that it is easier for buyer to navigate through your store and matching items. External link on product description is not clickable and some will be automatically flagged and removed by the system.
In this coming summer, there will be even more exciting feature being released! Again, thank you so much for being part of this wonderful community.
Tommy