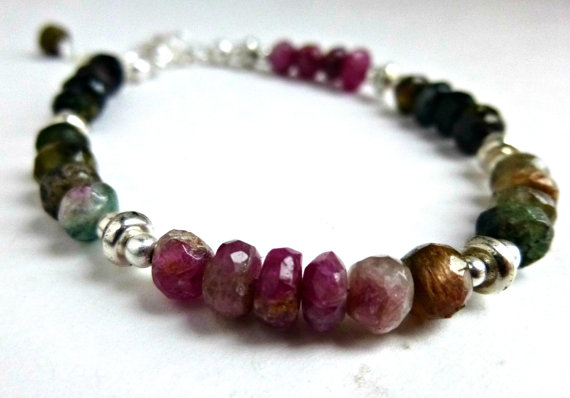 Description:
Small genuine rainbow tourmaline rondelles are separated with sterling silver round beads and sterling silver rondelle beads. Finished off with sterling silver chain and clasp. Total length: 7.5 inches that can be adjusted in size with notes to seller in checkout. Bead size: 5-6 mm rondelle hand cut so not all the beads are the exact same size.
Enhances flexibility, happiness, objectivity, compassion, serenity, balance, positive transformation, healing, strength, tolerance, love, spirituality, joy, peace, understanding..
Metaphysical Properties:
Tourmaline is a wonderful stone, with a color for each of the main Chakras. Excellent channeling stone for communication with higher forces. Tourmaline helps to break up energy blockages, which we mentally experience as anxiety, stress or confusion.
Tourmaline helps you to move beyond limited thinking, to an expanded sense of reality, and see past experiences in new ways. It teaches us that we are light beings in physical form, and helps us to experience the physical and spiritual worlds as one.
Pink Tourmaline is a good choice for children recovering from abuse, and healing the inner child. Brings deep comforting love energy. Transforms negative behavior into positive. Love, spirituality, joy, peace, understanding. Emotional and spiritual love, healing emotional loss and emotional pain, fear, instills self-gentleness (especially with severe illness like cancer, emphysema, etc.). Most powerful when combined with Kunzite or Rhodocrosite. Self-love, compassion, release of old hurts. Trust. Corresponds to the heart Chakra and crown Chakra, and the astrological sign of Libra. Pink tourmaline is a fertility (child) stone.
Black Tourmaline: Protects against negativity. Powerfully deflects/shields against unwanted or dark energies, (anger, resentment, or jealousy) especially for sensitive people. Encourages intellectual thought, vitality. Corresponds to the root Chakra, and the astrological sign of Capricorn.
Green Tourmaline: Creativity, prosperity, abundance, compassion. Represents life energy and life force. Excellent for people who work with herbs for healing. Enhances cooperation and healing, especially good at relieving chronic exhaustion, attracting abundance, and expressing creativity. Opens the heart Chakra, and corresponds to the astrological sign of Capricorn.
Rubellite (dark pink) Tourmaline: Creativity, love, devotion. Unites heart and body for love, courage, passion, energy, stamina, steadiness. High lithium content (thus pink/red color) brings emotional balance, lovingness, devotion in a down-to-earth way. . Releases reproductive Chakra blocks; stimulates fertility. Used to strengthen and detoxes blood and immune system and to ease radiation effects Corresponds to the root and heart chakras, and the astrological signs of Sagittarius and Scorpio.
Watermelon Tourmaline: (Red/pink and green) Brings together compassion, emotional and spiritual love (light pink) expressed in the physical heart Chakra. Activates
Shipping Information:
ship to
first item
subsequent item
Shipment Details
All of my items are carefully packaged in organza silk bags with tie ribbon shipped in bubble envelopes to protect them and from a smoke free home. Thank you for shopping hand made and Thanks for visiting! Let's visit some more on Facebook, I'd love to be your friend!
http://www.facebook.com/media/set/?set=a.218901748174860.53993.103206376411065&type=3#!/pages/McKee-Jewelry-Designs/247578775324008?sk=wall
Canada
Items are shipped Regular Parcel. Shipping charges include the postal charge and protective envelope and in most cases Tracking number is sent to you via Etsy shipping confirmation. Please note shipping is without insurance. Expected delivery is 7-10 business days
International ( Europe- Asia-Australia-Greece-Czech republic)
Expected delivery is approximately 15 business days. Some locations such as Greece, Paris, and Italy have taken 1.5-2 months to receive. Shipping charges include the postal charge and in most cases tracking number is sent to you via Etsy shipping confirmation. Sometimes delays can occur at customs and are unpredictable, depending on your country's procedures and if there is holidays or postal closures.