When someone tells you this, it's an invitation to chill with the comfort of local food. Fellow Malaysians are always on the look out for good makan places (informal for eatery) but there's something truly Malaysian about these mamak restaurants. Just like what McDonalds is to America, the mamak stall is the Malaysian greasy spoon where the locals usually hang regardless of races. Whether it's just for chit chats and gossips, watching football on huge screen projectors or ending a night of clubbing before going home, it's one of the best things in this country that define Malaysian culture and it's impossible to miss.
These stalls are available all day and all night, all year round.Reasonably priced with a vast variety, kiss your diet plans goodbye and lose yourself to these mamak delights.
1) Nasi Kandar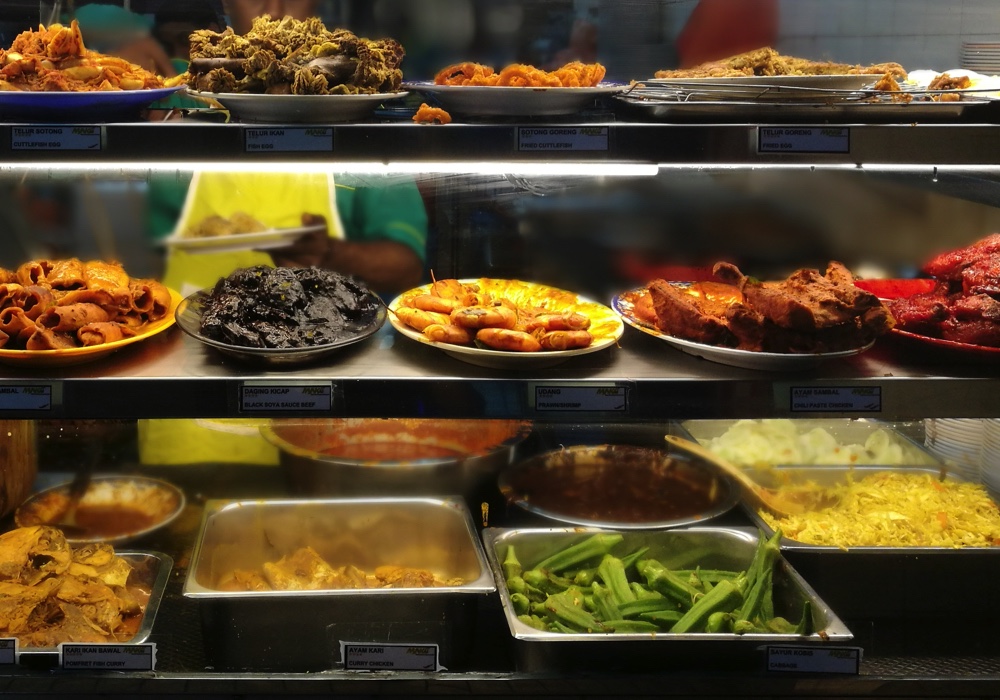 Penang is synonymous with nasi kandar; A plate of steamy white rice (or sometimes biryani rice) accompanied by several choices of marinated meat, curry based dishes and vegetables. Back in the old days, nasi kandar is sold in portable street food baskets. In Malay, 'nasi' means rice and 'kandar' implies the act of balancing a long stick on your shoulders- which is how nasi kandar got its name.
It's one of those meals that people would love to get their hands dirty as you savour the variety of flavors in this one simple dish. It's SOOOOOO MIND BLOWINGLY GOOD that you would lick the plate clean.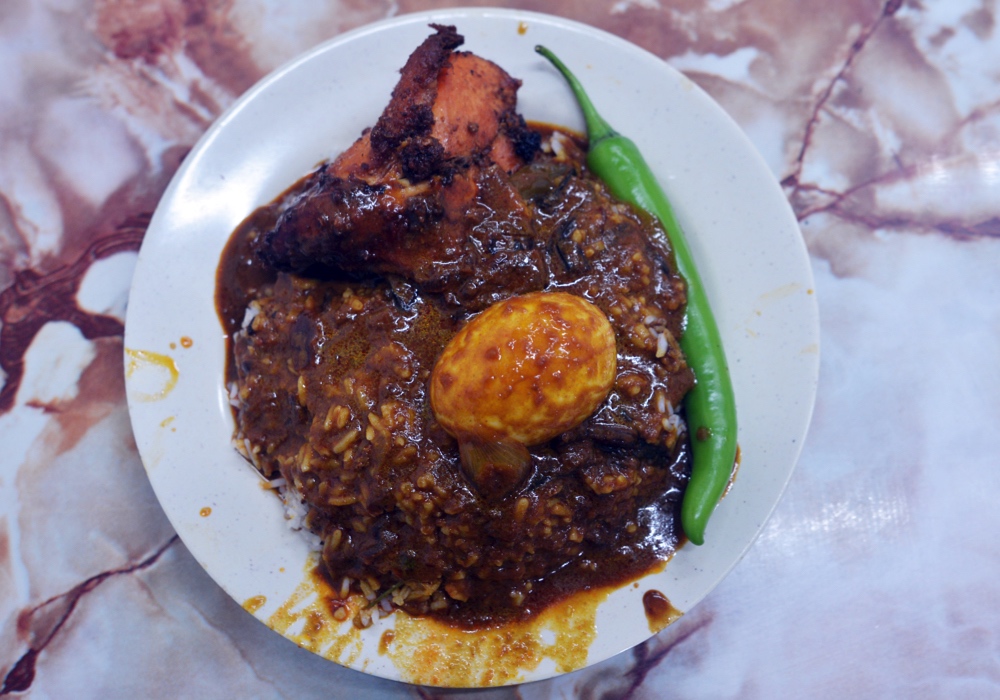 For the love of gravy, tell the waiter 'kuah banjir' which means to flood your plate with a mix of curry gravies.
If you're not a fan of spicy food, refrain from being macho / adventurous and make sure to tell them you want your gravy in a separate plate before ordering. You may ask them for 'kuah sikit ' for just a little bit of curry. Although I insist you "banjir" your plate for a more syok (enjoyable) experience.
2) Roti (Flatbread)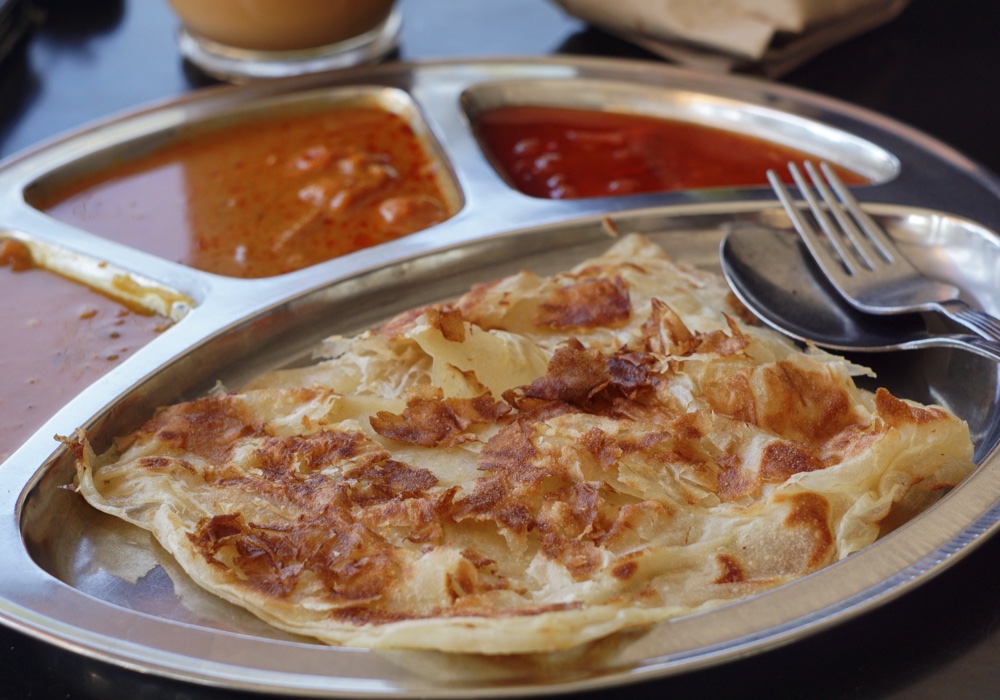 While the French love their flaky croissants, we love our bread too; Roti canai. One of Malaysia's staple breakfast (Fine. It's good for lunch, tea, dinner and supper too) and best eaten when paired with tea.
Excitingly crispy with slightly charred edges, the golden brown roti canai is served hot with dhall curry or any other types of curries.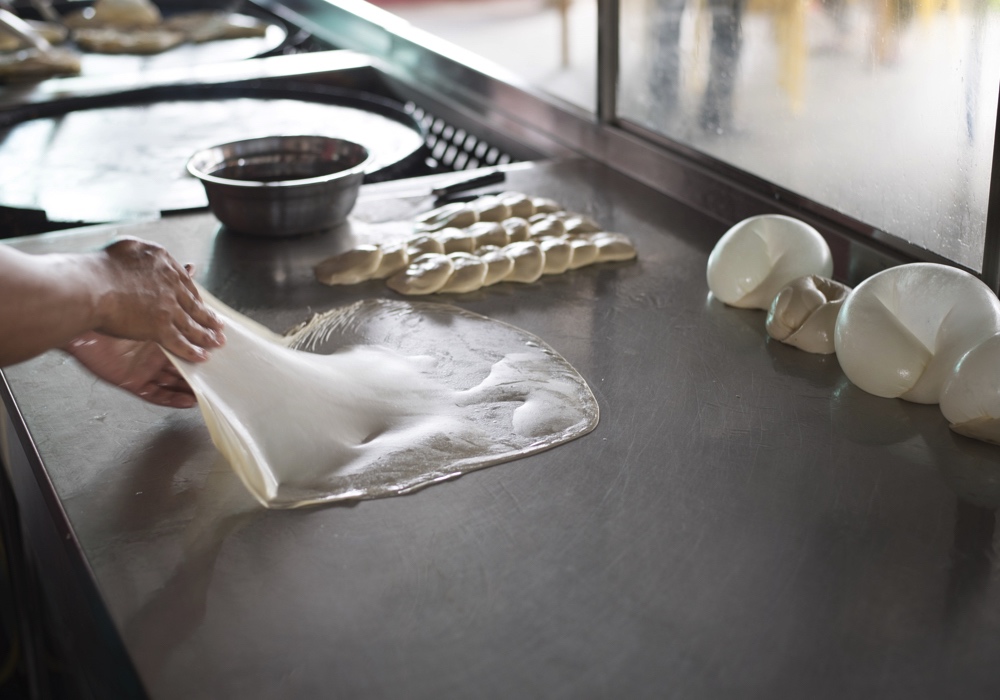 Watching the Mamak seller flipping and tossing the dough in the air is a form of art and the sound of sizzling ghee coated roti canai on a grilled flat pan is music to our ears.
And just like the nasi kandar, you can have it "banjir" upon request.
Top it off with a half boiled egg for some extra sloppy goodness.
If you have a sweet tooth, try the roti tisu for an interesting twist.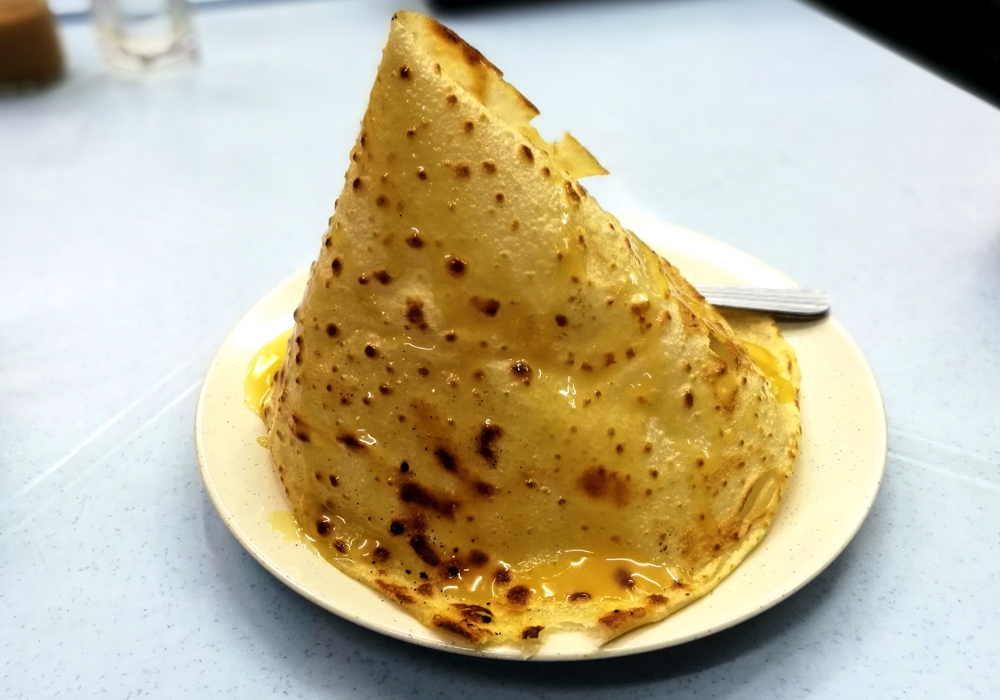 A thin, crispy flatbread that's rolled out and folded into a cylindrical form, generously drizzled with sweetened condensed milk and syrup. It tastes better when shared with friends and family.
Of course, there are other similar versions of it like roti telur (roti canai with egg), roti telur bawang (egg + onion), roti bom, roti john, naan, roti parotha, thosai, and the possibilities are endless. Same, same but different.
3) Coffee & Tea
There's nothing like a cup of coffee or tea to kick start the day. Efficiency is normally 4 out of 5 when it comes to beverage. From wherever he stands, he will shout your order and in 5 minutes or less, voila! you get what you want.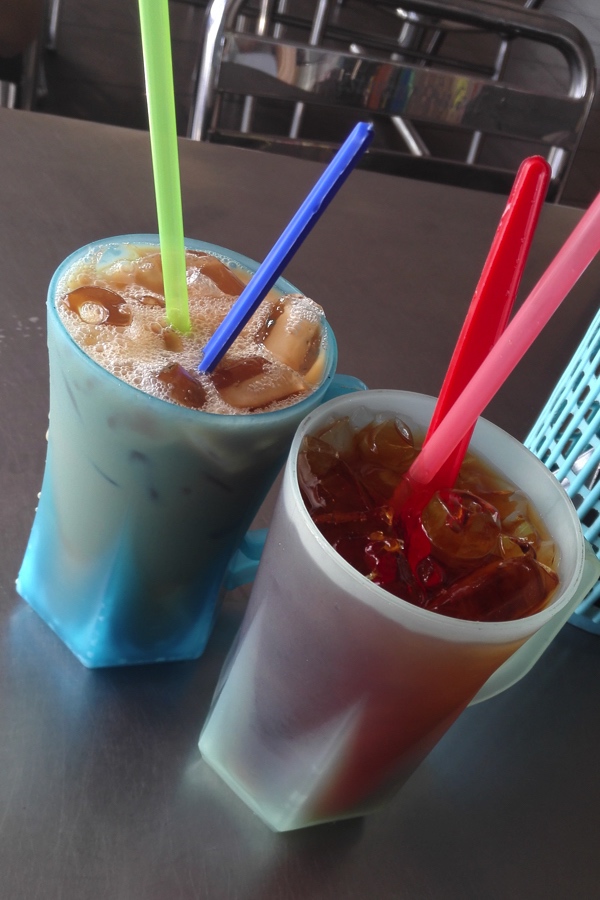 Teh-ais on the left, teh -ais on the right. Know the difference.
Sometimes, even the locals make this common mistake.
Trying their best to cater to your taste buds, check out this cheat sheet on how to order drinks like a local.
Teh = tea with sweetened condensed milk and sugar.
Teh-O = tea with sugar, no milk
(teh-O ais = iced teh- O)
Teh-O kosong = plain tea without sugar or milk
Tip: Replace teh with kopi in the list above to order coffee instead of tea. Works for milo as well.
For a rich, frothy drink, order teh tarik ( or kopi) which literally means pulled tea.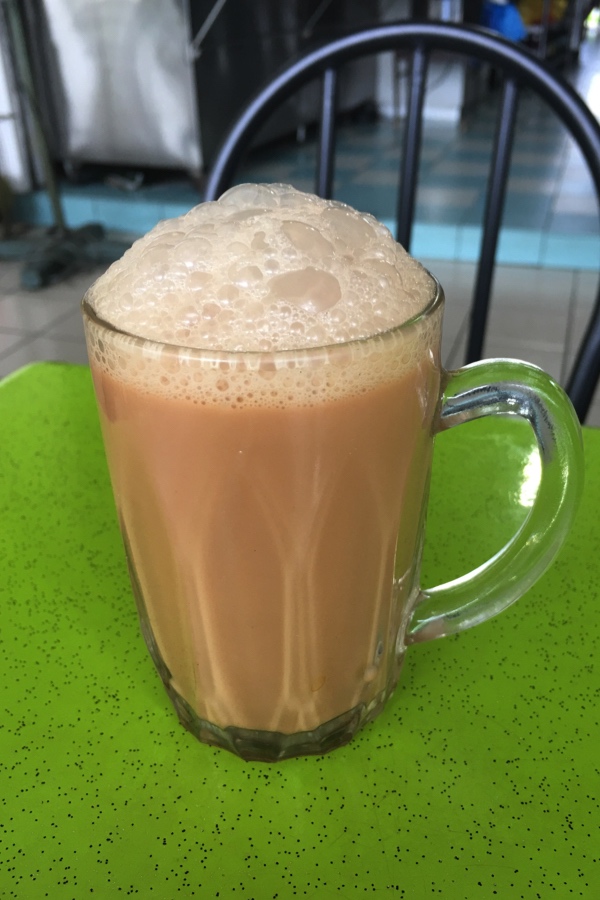 The whole process of skillfully pouring hot, freshly brewed tea back and forth from one mug to another can turn a normal hot drink into a luscious, creamy beverage with more oomph in every sip.
4) Sup (Soup)
In the wee hours of the night when we're simply craving for a light meal, a hearty bowl of sup kambing (mutton soup) will do the trick. Full of spices and boiled for long hours, the soup base has a sharp peppery taste, sprinkled with spring onions and fried onions. If you're not keen on mutton, you have a choice of meat from chicken, cow, ox tail, quil and many more interesting choices from its long list of menus.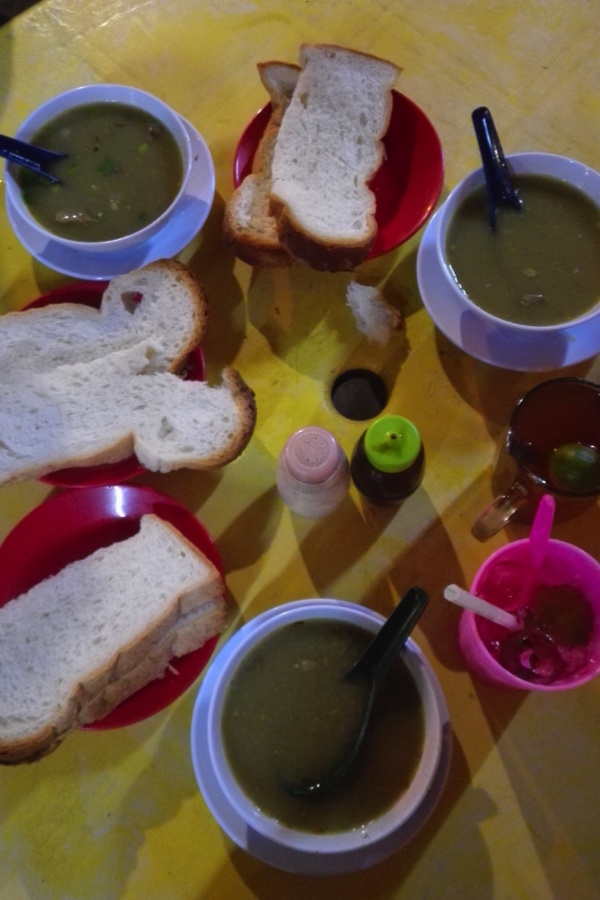 The secret to enjoying this flavourful soup is to complement it with Bengali bread. Why this specific bread? The bread is hard on the outside, soft on the inside. So, when dipped, the fluffy center absorbs its strong flavours without breaking off easily or gets too soggy.
5) Goreng (Fresh From the Wok)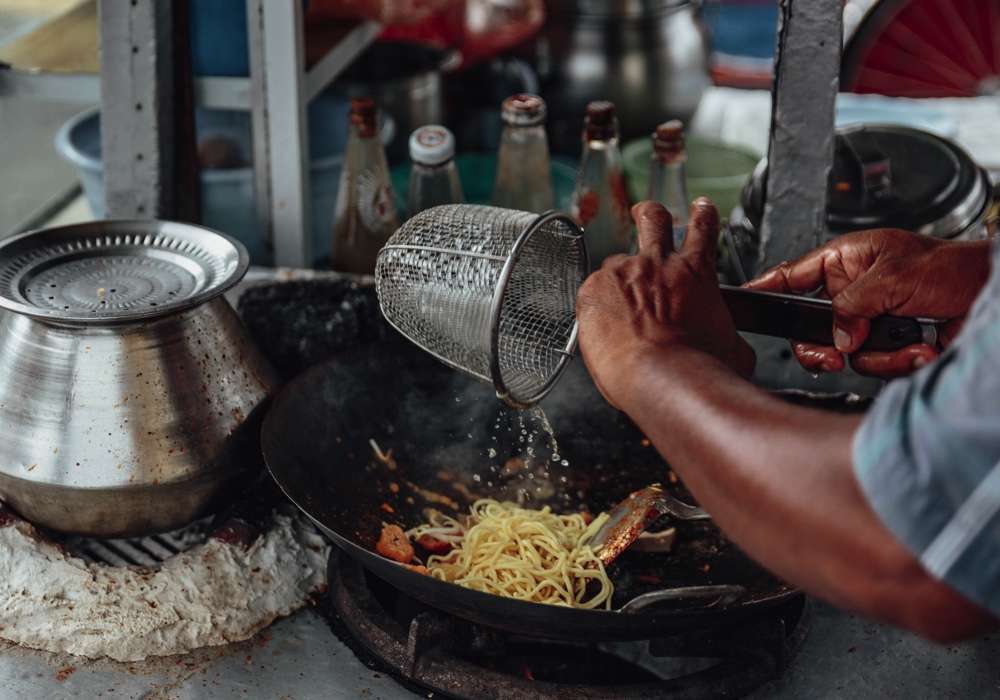 Stir-fried to perfection, mamak stalls usually have a goreng-goreng menu ( fried fresh from the wok) which serves dishes such as rice and noodles. One final dish to complete your Mamak food scene, the popular dish that's sure to stir up your appetite is the mee goreng.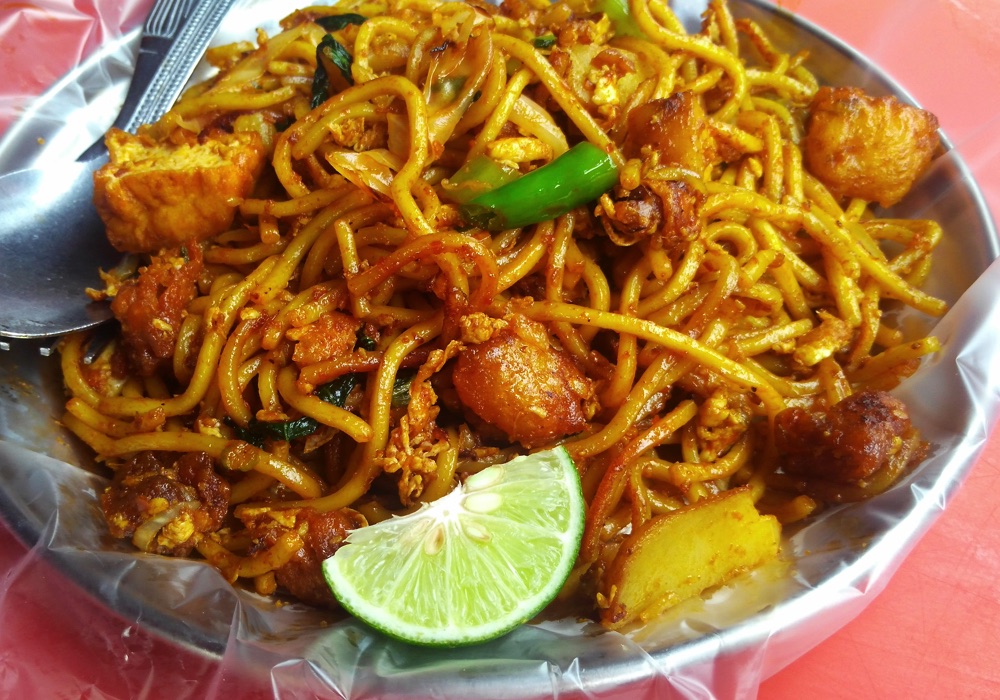 Behold, the legendary mee goreng. The yellow noodles are stir fried over high-heat with a concoction of tomato paste and luscious chilli, topped with bean curd, potatoes and chopped lettuce. Served with a wedge of lime on the side for a tangy twist. A satisfying tummy-filler that will keep a smile on your face throughout the day!
There's no harm if you come in at 2am in your pyjamas or if you're overdressed after say, a formal event in your business suit. A feast fit for a king that welcomes people from all walks of life, the mamak stall it is whenever you're stuck with the daunting question of "What to Eat?".
You can easily find these mamak stall anywhere. In my opinion, these are the top 4 best Mamak places in Penang. Check them out!
Nasi Kandar Deen Jelutong
Address: 
598-D, Jalan Jelutong, Jelutong, 11600 George Town, Pulau Pinang, Malaysia
Operating Hours: 
Open 24 hours
Original Penang Kayu Nasi Kandar
Address: 15, Lebuh Nipah, 11900 Bayan Lepas, Pulau Pinang
Operating Hours: 
Open 24 hours
Restoran Nasi Kandar Line Clear, Penang Road
Address:
Beside 161 & 177 Penang Road, George Town, 10000 George Town, Pulau Pinang
Operating Hours: 
Open 24 hours
Nasi Kandar Pelita - Macalister Road
10400 Georgetown, Penang.
Operating Hours: 
Open 24 hours
For more exciting travel reads and recommendations, read more
here
.