Our Guide to Prom Dress Trends 2020
Posted by Luulla_admin
Thursday 20 Feb 2020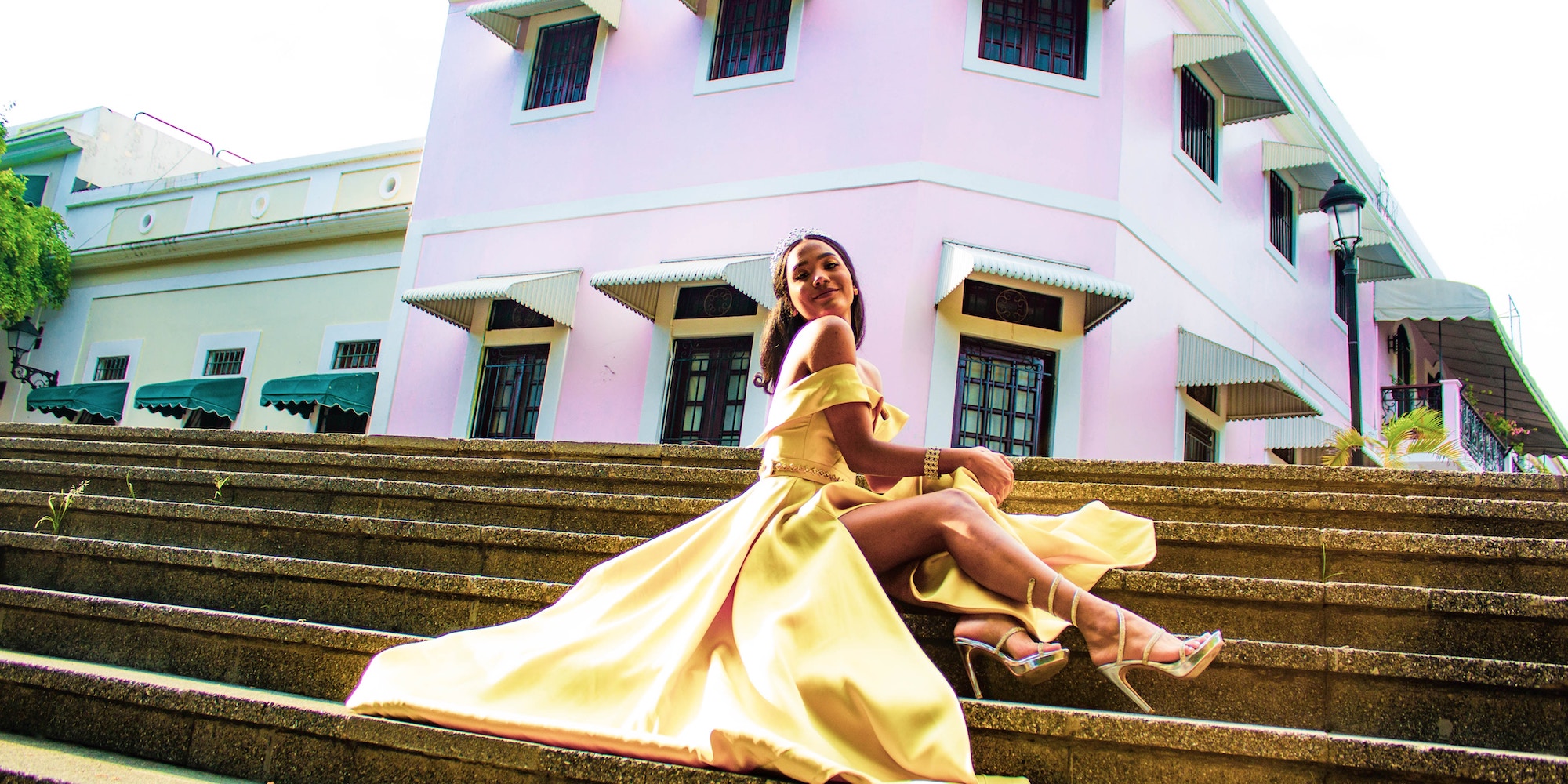 A night you've been waiting for is just around the corner! Are you excited for Prom 2020? It will be the most memorable night before the new challenges that lies beyond the gates of high school and into adulthood. Picking an ideal dress for your prom is a difficult task as you do not want to regret your choice on your most important night.
Besides that, prom also comes with a major price tag but don't fret as we have come up with a list of popular prom dresses trends for 2020 from Luulla that can inspire and guide you to find the perfect dress. So read on to find prom dresses for a fraction of the price as well as how to be the centre stage amongst the stylish and trendier crowd.
Embroidery is an ancient craft using a form of needlework that adds aesthetics to fabric. Recently it is making a comeback as many contemporary creatives continue to carry out the age-old practice on designer dresses, from casual maxi dresses to elegant evening gowns.
If you're planning to go for a soft subtle look on your prom, we have a simple a-line prom dress lightly embroidered with pink flowers, leaves and stem. It is also a conservative look as it has simple sleeves and a v-neckline. A statement black sash is added to create the illusion of a slimmer waist.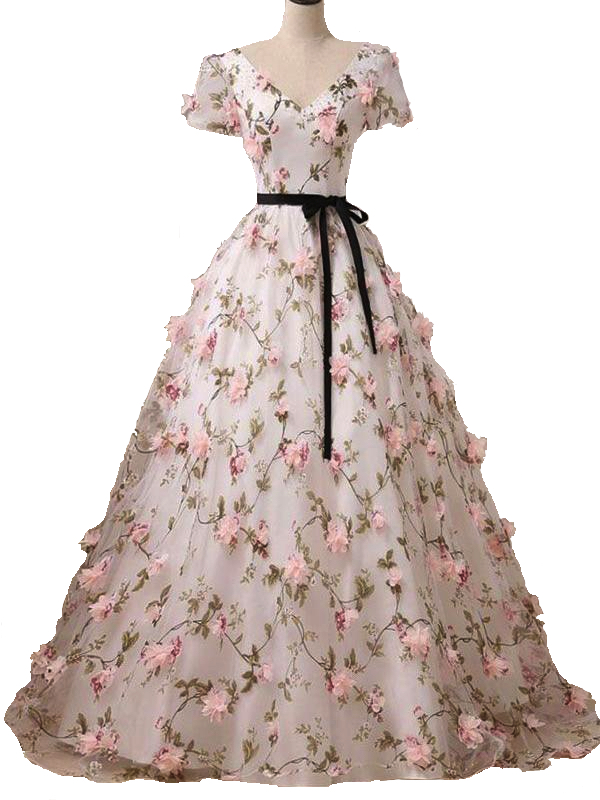 Here's another prom dress that could make you stand-out of the crowd. This a-line tulle prom dress has a princess high neck with eye-catching blue floral embroidery details which complimented each other very well. It is both elegant yet unique at the same time.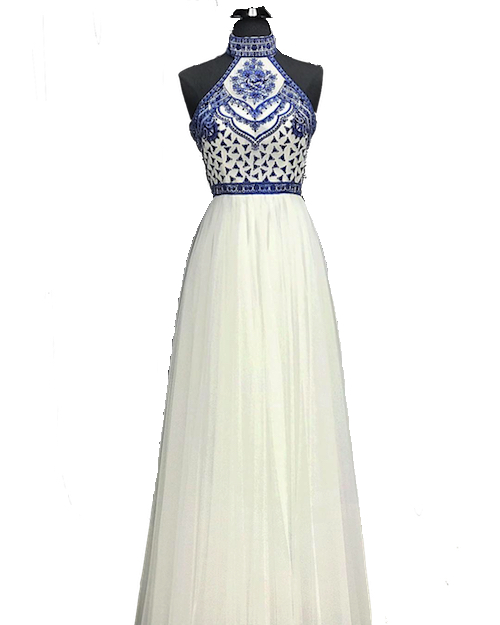 If you like large floral prints then this dress is for you. This cream coloured a-line prom dress has large prints of red roses that are embroidered throughout the dress. It also features a strapless bodice with a sweetheart neckline and a black band to enhance your waist. Not only will you be the glamorous in this dress, you will also stay trendy and chic.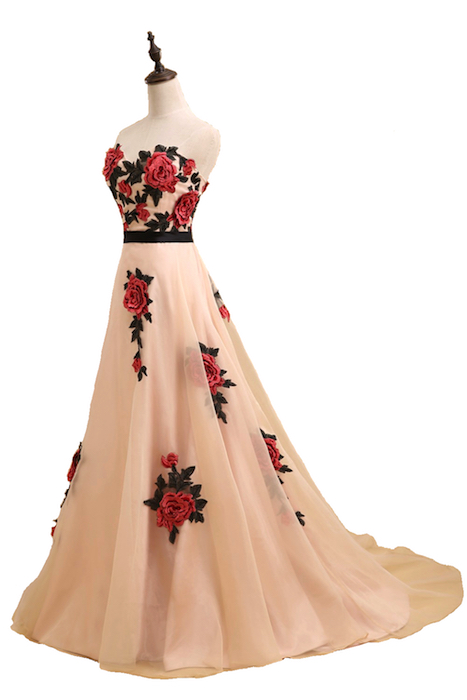 Sequins comes in many different colours and they are making a come back this year. Many designers are adding this shiny and glistening detail into their collection, proving that this timeless decoration can be worn for absolutely any occasion.
Here is an iridescent sequinned prom dress that will captivate your peers and have you dazzling like a star all night. This unique one shoulder prom dress is alluringly sculpted in flattering fitted silhouette that is covered with multi-reversed sequins while featuring an asymmetrical neckline and a high slit along the side. So wrap yourself in style and shimmer with pride as you rock your way through the night.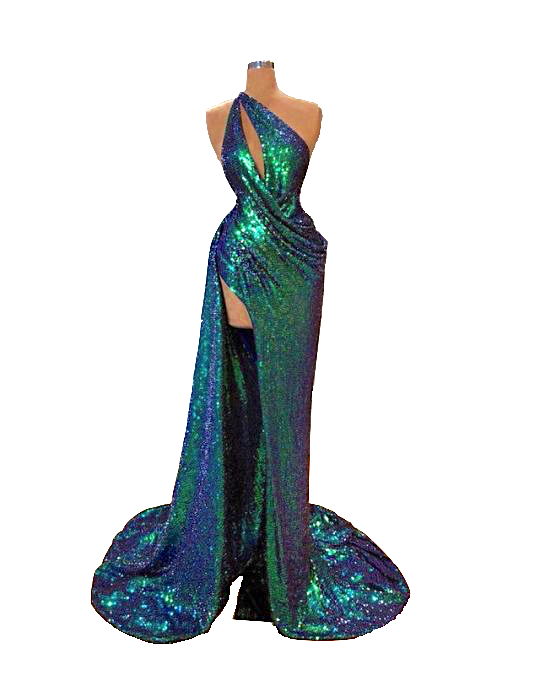 For those who wants the sequinned look but more subtle? You can go for this simple sequin prom dress that comes in soft carnation pink colour. It has a v-neckline with capped sleeves and a-line skirt that cascades down in shimmery sweep train. You will find yourself flourishing in sophistication that reflects your personality.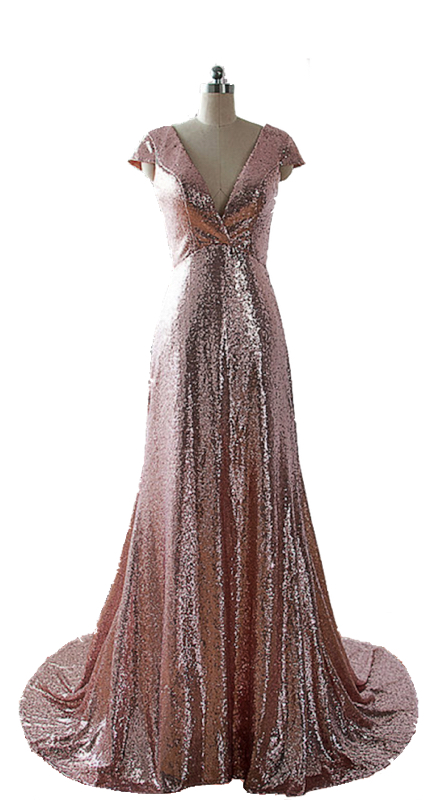 Hi-Lo, short for high-low is a style that combines a maxi hemline at back with a minidress in the front. This is one of 2020 most popular trends for prom dresses as this is such a flirty and fun outfit, combining elegance and a modern chic look altogether in one dress.
The first featured dress will be sure to mesmerise your peers with its fun and elegance. This stunning ensemble is fitted with a halter neck illusion bodice that is embellished with beads. This dress might look simple but you will find the puffy ruffles of the organza skirt sweeping behind as you strut your way into prom 2020.
Next, we feature an elegant grey number that you would love. This hi-lo tulle prom dress features a ruched strapless bodice that is embellished with a silver glittering band which helps in accentuating your waist. It gives off a flair of timeless beauty and innocence all in one piece.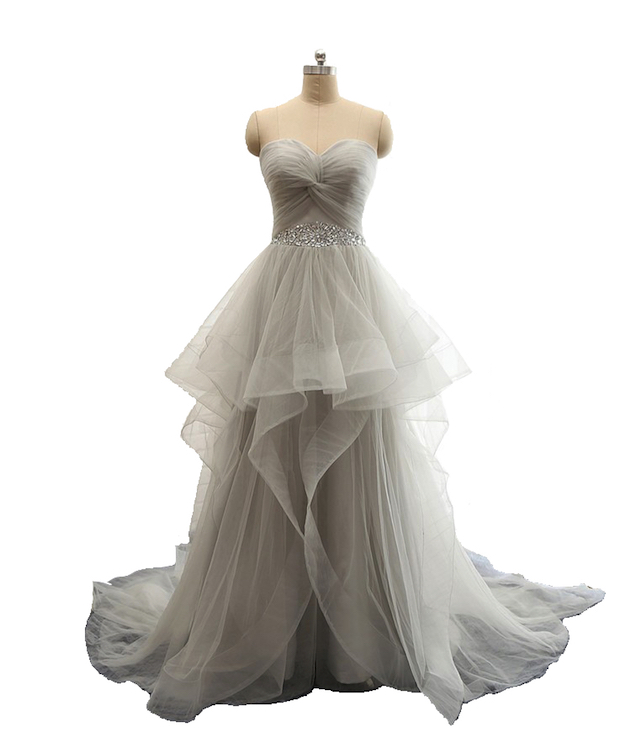 For those who prefer a more subtle but graceful look, then this dress is for you. This soft blue hi-lo layered tulle dress and pleated tube bodice is complimented with floral appliques and raised up flowers. Elegant and ethereal, this head-turning prom dress will definitely impress and wow your peers the moment you make an entrance.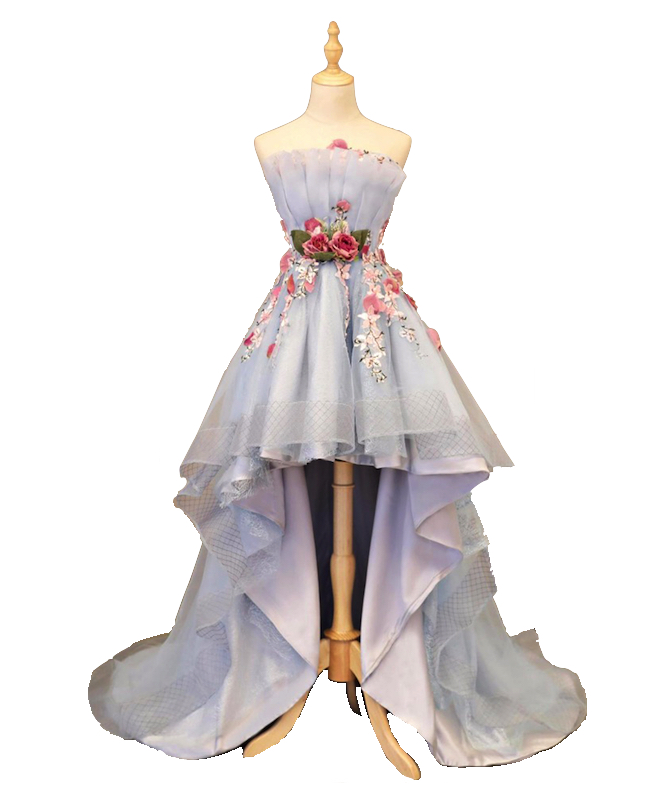 One of Prom 2020's focus would be the little things that make a difference. Patterned beadwork, applique embroidery and detailed lace overlays are the few trending ones this year. The characteristics of fabric details could easily transform a simple ordinary dress into an exceptional piece of art all by itself.
Patterned beadwork is all the rage this year. It is a technique of sewing different coloured beads and sizes onto a fabric in beautiful patterns. Check out this simple yet elegant rose white prom dress that features beadwork in scroll patterns on the bodice that has a v-neckline, spaghetti straps and a flowy tulle a-line skirt. We also recommend another beaded dress that you might like too. This navy blue dazzling prom dress that features a sleeveless tube bodice and voluminous ballgown skirt
gives you a flair of sophistication by the
scattering of shimmering beadwork which sparkles effortlessly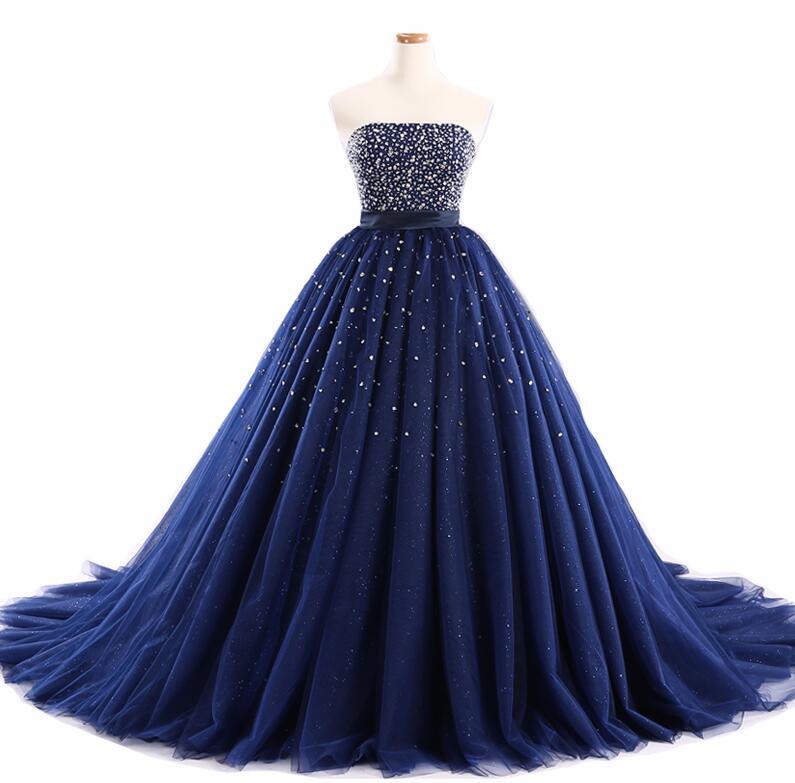 Applique comes from a French word meaning apply where applique embroidery is a needlework technique of stitching or applying small pieces of fabric onto a larger piece to form a picture or pattern. It helps to enhance a dress by giving a lavish and quality texture to the overall look. If you like a dress that makes you feel like you're living a fairytale, then you will like these two dresses. The first is a baby blue prom dress with an illusion bodice adorned with gorgeous detailed appliques, a scoop neckline and tulle a-line skirt. Ice princess vibes anyone? The second dress is a strapless peach cream prom dress that has a sweetheart neckline, an accentuating corset bodice and exposed boning. It is adorned with delicate applique that can also be found on the voluminous ballgown tulle skirt.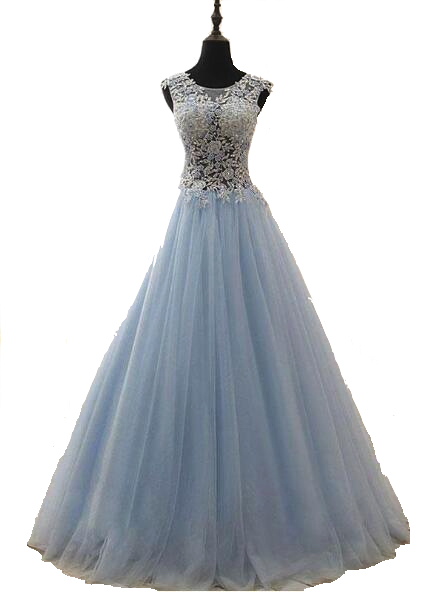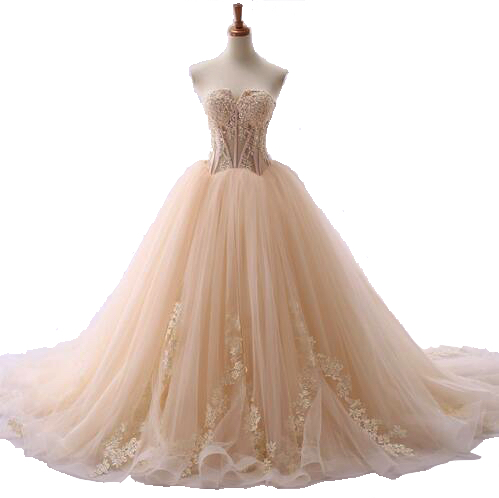 Lastly, lace overlay prom dresses have always been a constant trend and it is not going anywhere in 2020. Lace overlay features a sheer lace on a separate layer that goes over the dress fabric. It is loved by many as it gives the dress a modern 3D look that is classy yet sassy vibe and with a touch of feminine charm. Here we recommend two stunning prom dresses with exquisite lace overlay detailing that you will fall in love with and feel like you're having a magical dream. The first is an a-line dress with floral lace overlay and illusion plunging neckline that comes with two different colours. Another dress is an a-line lavender piece with sheer illusion lace overlay v-neck bodice and a sheer cascading tulle skirt with a short solid underlining.